Welcome to the UC Davis Manufacturing and Sustainable Technologies Research (MASTeR) Laboratory, headed by Assoc. Prof. Dr.-Ing. habil. Barbara S. Linke.
We pursue research on sustainability of manufacturing operations and machine tools from process to factory level and develop tools to assess and teach sustainable product manufacturing and design. We investigate on understanding the physical mechanisms in abrasive machining and their impact on the product life cycle as well as digitizing the process knowledge to enable smart manufacturing in the age of Industry 4.0 and Industrial Internet of Things (IIoT).
Vision
Promoting sustainability in manufacturing technologies for Industry 4.0/ Industrial Internet of Things.
Mission
Investigating and educating on sustainable and smart manufacturing, researching physical process mechanisms and machine tool design, and identifying how manufacturing processes affect product life cycle, utilizing examples of abrasive processes and other material removal principles and additive manufacturing/ 3D printing.
Watch our lab video: MASTeR Lab Video March 2021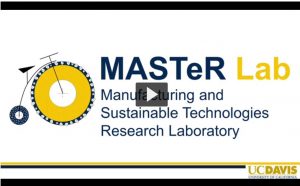 (Here are the links to our old videos: MASTeR Lab Video September 2017 and MASTeR Lab Video Feb 2014 ))
We are part of the UC Davis Industrial Ecology Program, UC Berkeley Fire Research Group (FRG) and UC Davis Wildfires Research Working Group.

We participate in the International Research Training Group IRTG 2057 with the University of Kaiserslautern, Germany and UC Berkeley.
Information about the SME Student Chapter at UC Davis can be found here .